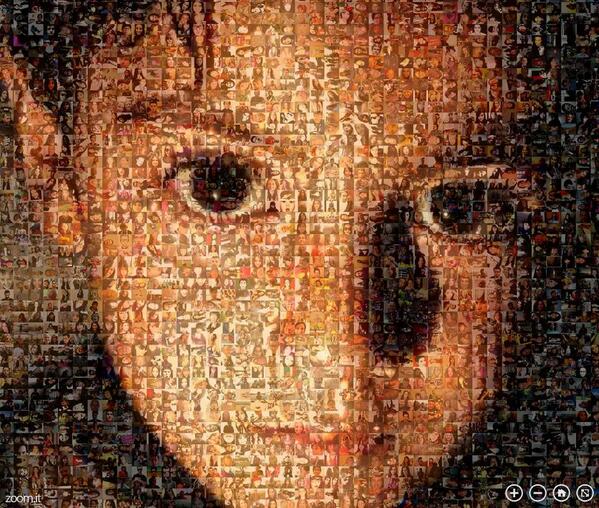 Thousands donated photos to make this image to represent
Syrian children caught up in their country's conflict.
(Save the Children/InterAction.org)
http://www.facesforsyria.org/me
With all the rightful concern and excitement about what's been going on in Crimea over the last days and weeks, something else has been missing from the news -- namely, Syria. Have you noticed? I have, because I work with two wonderful people from Syria whose families and friends have been affected by the ongoing crisis there. It hasn't been easy for my friends to watch their beautiful country descend into total chaos over the past three years. There have been periods when they've wondered if some of their family members are even alive... and when they've heard that some are not... I think of my friend's twelve-year-old cousin named Giorgio who was killed by a stray bullet in his own living room...
Many Syrians have been forced to flee their homes for overpopulated refugee camps where health issues such as polio and leprosy have suddenly reappeared. Lebanon, to Syria's south, is about half the size of Nova Scotia (10,800 sq km), and its population of 4.5 million has swelled by almost a third as 2 million Syrians have sought refuge there, further stressing the country's already precarious finances, healthcare, housing, employment and education.
Two weeks ago, a Lebanese doctor who works to provide healthcare to Syrian refugees in Lebanon, Dr. Rita Rhayem, came to Edmonton to make us aware of how our donations to
Development and Peace (Caritas Canada) have helped Caritas International
in Lebanon serve many Syrian refugees. She shared stories about helping families to get essential health services from basic first aid and vaccines to more critical help like delivering babies, psychological counseling and wound care. The Caritas Lebanon team of approximately 25 doctors and 30 nurses is a dedicated group, many of whom have been working with the organization for more than twenty years. They are so convinced of the importance of what they do that there is little, if any, staff turnover -- they see that they are making a difference with every smile they receive from their patients. Here's a little video that gives you an idea of what they're doing:
When it became evident that the Syrian crisis would not just go away, every politican and their dog jumped on board to raise funds to help the people of Syria. But now, three years in, other issues have turned their attention elsewhere, and Caritas Lebanon's funding of projects to help Syrian refugees will soon run out. So it's important to spread the word about excellent organizations like Caritas, which also runs projects for Syrian refugees in Jordan, Turkey, and within Syria itself. We need to point people to places where they can learn about and support the work that people like Dr. Rhayem and her colleagues from
Caritas International
are doing. Please consider sharing this post and visiting any of its links to learn more and make donations to help the people of Syria. It's one simple way to live in solidarity with our Syrian sisters and brothers.